Match
OkCupid
Average rating
4
1.3
Member base
– 21.5 million members
– 45% female members – 55% male members
– most users' age range: 25-54 years old
– 50 million
– 35% female – 65% male
– users' age range: 25-34
Prevailing relationship format
– long-term relationships
– marriage
– long-term relationships
– short-term relationships
– hookups
Mobile app
yes
yes
Customer support
email, phone
email
What's included in free & paid versions?
Free:
– sending likes
– browsing members
– using the Matchmaking game
– creating a basic account
– using SingledOut matches

Paid:
– browsing invisibly
– seeing who viewed your profile
– instant messaging system
– using MatchPhone
Free:
– registration process
– sending messages
– browsing members
– using basic search filters

Paid:
– removing ads
– seeing who likes your profile
– using premium search filters
– boosting your profile
Prices
– 3 months: $14.99 / month
– 6 months: $11.49 / month
– 12 months: $8.99 / month
Basic subscription:
– 1 month: $7.95 / month
– 3 months: $6.35 / month
– 6 months: $3.95 / month

Premium subscription:
– 1 month: $24.90 / month
– 3 months: $22.90 / month
– 6 months: $19.90 / month
Top highlights/unique features
– date check-in
– a great place to find serious and long-term commitment
– on the market for over 20 years
– free core features
– a large and active member base
– matchmaking system based on personality
OkCupid was launched back in 2004, and ever since, it has remained to be one of the most reliable sources for online dating.
With over 20 years of existence, Match is likewise a trusted platform that people interested in long-term relationships visit regularly.
Ease of use + Design/Layout
Reading many reviews on OkCupid vs. Match has led us to compare the ease of use of these two platforms to find which one proves to be better.
OkCupid has a somewhat traditional approach to finding dates online. For this reason, the design is plain and straightforward, easy to use, and suitable for all. All features are visible on its convenient interface and provide you with everything you need. Even though some may find the design too simple, it makes OkCupid a suitable platform for youngsters and seniors alike.
Match, on the other hand, has a more contemporary approach to the design and layout. It's easy to navigate through the platform. The layout is clean and minimalistic but still aesthetically attractive, providing you with a perfect mix of usability and style.
Winner: Match
Sign up Process
Putting the sign-up process of OkCupid vs. Match next to each other has led us to the following observation.
The registration process at OkCupid will take up only a few minutes. There is also an obligatory questionnaire at the very sign-up process where you have to fill in your interests, likes, dislikes, and hobbies to help others find stuff about you faster. This matchmaking algorithm will, in turn, help you find people like you.
The sign-up process at Match is a bit more time-consuming. First, you fill in basic info about yourself, and then you follow a link to an online profile maker. There you enter your relationship and personality preference, body type, height, etc. Even though it takes up time, members like to create detailed profiles.
Winner: Match
Profile Settings + Search Filters
Comparing OkCupid vs. Match for women and OkCupid vs. Match for men when it comes to profile settings and search filters shows that the matchmaking system of OkCupid is better.
With OkCupid, it's all about filters. The parameters you have to enter, such as availability, looks, personality, background, questions, vices, and more, cover everything you need to know when looking for a match. Premium members at OkCupid even have additional filters that aid their search.
On the other hand, Match has a filter where you either "like" or "dislike" the profile suggested to you to narrow down your picks. On the very profile, your online status will be visible, and create a photo album. However, there's no verification for this.
Winner: OkCupid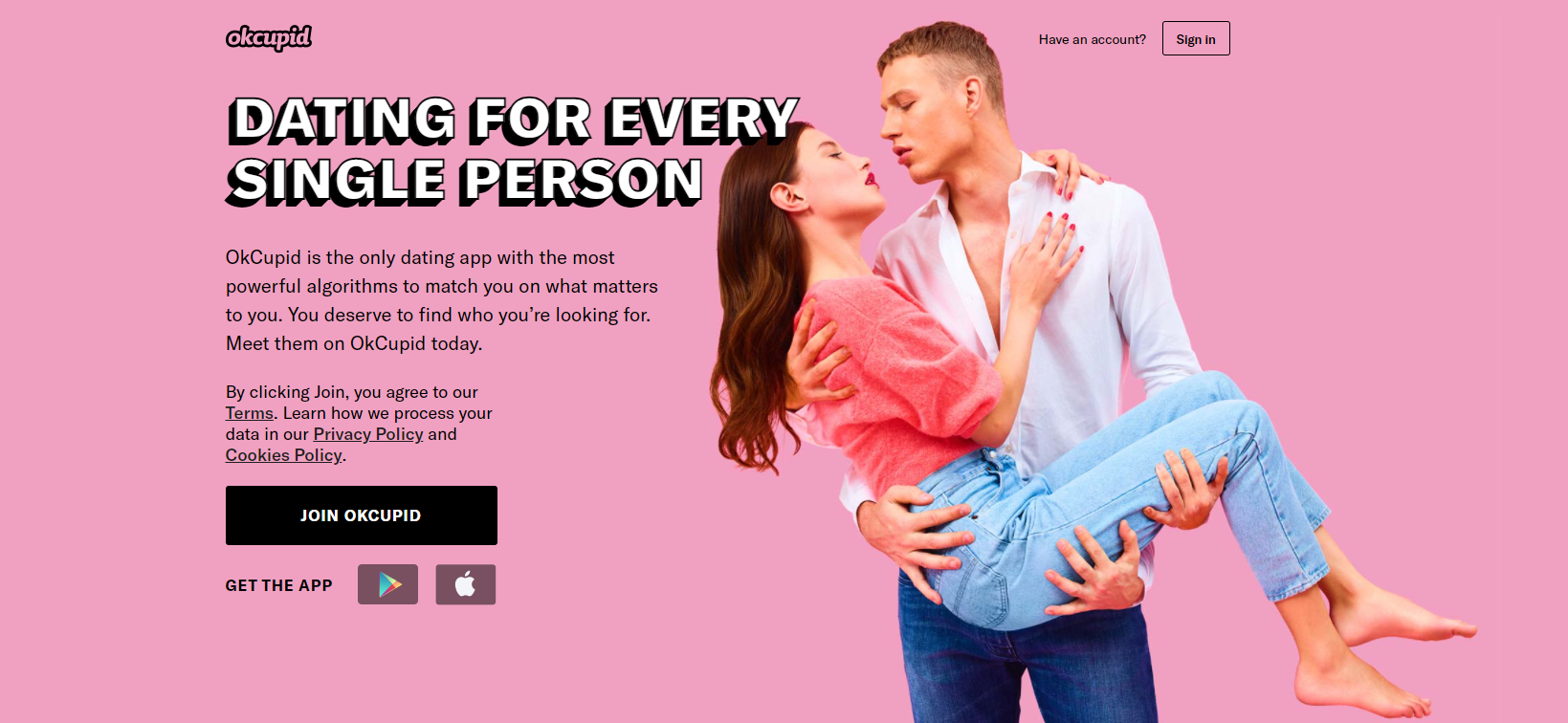 Matches Quality + Success Rate
Regardless of how many users does Okcupid have vs. Match – the matchmaking system must work. Let's see which one has a higher success rate.
OkCupid has an excellent quality of matches since the obligatory questionnaire at the sign-up process shows all the reliable information of each user. On the other hand, Match claims to be responsible for approximately 42% of overall online dating. Even though that may be true, our gold medal for matches' quality and success rates goes to OkCupid.
Winner: OkCupid
Reliability and Safety
The staff at OkCupid gives their best to provide all users with a high level of safety and reliability. Hardly ever will you stumble upon a fake profile at OkCupid, which is what makes this platform very secure.
The staff at Match takes similar safety measures. Additionally, Match has a special feature called "Date Check-In." With this feature, users can send an SOS message to the team at Match, which is how Match protects its users if a date goes wrong.
Winner: Match
Unique Features
It's normal to wonder how much is OkCupid vs. Match, which is why we've decided to lay out their unique features and determine which one is worth your money.
OkCupid features a roulette game called Double Take, where you can swipe users to find matches. There's also the "I'm Vaccinated" badge for those who received their COVID-19 vaccine, which can help you find and choose only those who have that badge.
Other than the unique feature "Date Check-In," Match has other useful features. The "MatchPhone" feature allows you to talk with other users via anonymous phone numbers. Another feature called "Vibe Check" allows those who have matches to video chat.
Even though OkCupid's features seem thrilling, Match is more oriented on connecting people that want to find suitable people, which is what their unique features are best at.
Winner: Match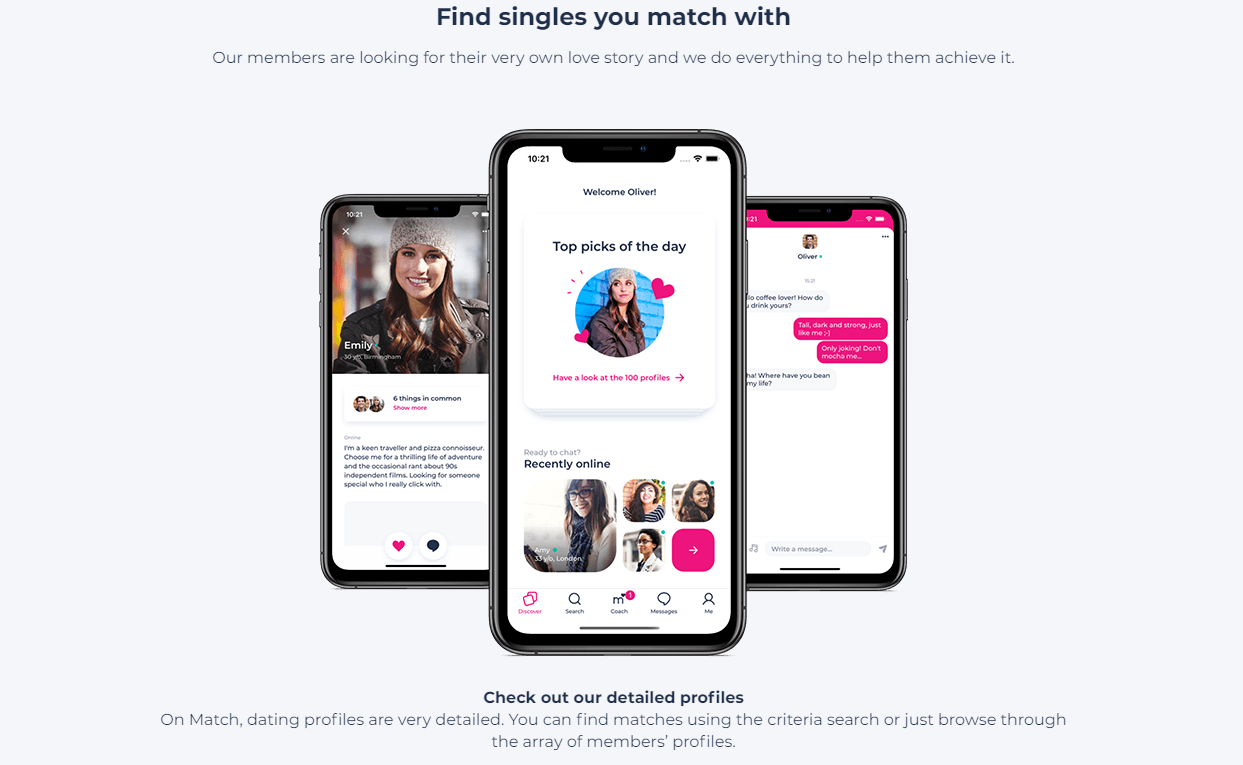 Pricing
Comparing the cost of OkCupid vs. Match shows that both work best with paid memberships.
A free OkCupid account will allow you to message other members, but to use all the unique features this platform has to offer, you'll need a paid subscription. You can pay for it via PayPal, mobile phone, or a credit card.
Match accepts only PayPal and credit card payments for a premium account that will unlock the MatchPhone feature. Given that it's sometimes hard to go on a date with a stranger, this video chat feature that Match has to offer on paid accounts wins the race.
Winner: Match
Help & Support
The customer support at OkCupid will resolve all your inquiries via email and will always be happy to help you. Help and support at Match can be reached via phone as well, and you can expect a prompt reply to all your questions on the spot.
Winner: Match
Verdict
It has been a tight battle of OkCupid versus Match, but Match finally takes the throne. With a focus on a matchmaking system for serious relationships, useful and unique features, Match is the one that can help you find your soulmate.